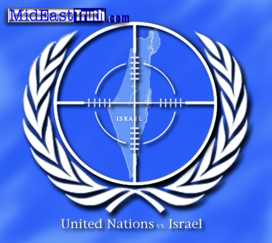 >>> The Danger of the United Nations Forum <<<

The U.N. - Caroons

Permanent Mission of Israel to the United Nations


"Israel is the only UN member not permitted to stand for election to the full range of UN bodies. So while membership of the UN Human Rights Commission now includes Cuba, Libya, Sudan and Syria -- four of the seven states designated as state sponsors of international terrorism by the U.S. State Department -- Israel cannot even be a candidate."
- Anne Bayefsky, The Globe and Mail
April 26, 2002
(Anne Bayefsky is a visiting professor at Columbia University Law School and a member of the governing board of Geneva-based UN Watch.)
Some of the links may be outdated or may no longer be online. You can always find the unavailable pieces on the archive of the original publisher's website, using the name and date of the article (some will require a fee to gain access).
A principled human rights agenda
Editorial, The National Post, July 7, 2004

A skewed vision of human rights
Editorial, The National Post, July 6, 2004
The UN and the Jews
By Anne Bayefsky, Commentary Magazine, February 2004
Business as Usual
By Anne Bayefsky, National Review Online, April 26, 2004
U.N. vs. Israel
By Anne Bayefsky, National Review Online, April 20, 2004

Is the U.N. helping Hezbollah in murderous attacks against Israel?
By Sharon Gazal, The Star Tribune, February 7, 2004
The UN Must Change or the U.S. Must Quit
By David Frum and Richard Perle,
The Los Angeles Times, January 26, 2004
How could Israel ever trust the United Nations?
By Marcus Gee, The Globe and Mail, November 28, 2003

Brief to the Security Council
By Evelyn Gordon, The Jerusalem Post, October 14, 2003

Where is UNICEF?
Editorial, The Jerusalem Post, September 29, 2003

The UN and the old devil
By George Jonas, The National Post, September 22, 2003

The UN is unable to recognize terrorism
By Anne Bayefsky, The Jerusalem Post, September 21, 2003

Who's driving peace, Bush or Annan?
By Anne Bayefsky, Chicago Sun-Times, July 20, 2003

U.N. is UNfit to run Iraq
By Clifford D. May, The New York Post, July 26, 2003

UN farce as Libya judges Israeli rights
By Ian Mather, The Scotsman, July 20, 2003

Time To Ditch The UN
By Stanley K. Ridgley, FrontPageMagazine.com, February 21, 2003

Israel's second-class status at the UN
By Anne Bayefsky, The National Post, February 18, 2003

The UN's last chance
Editorial, The Jerusalem Post, February 5, 2003

The UN is fast becoming a threat to world peace
By Barbara Amiel, The Daily Telegraph, February 5, 2003

The UN gives hypocrisy a bad name
By Shlomo Avineri, The Jerusalem Post, January 27, 2003

UN lacks moral fiber to back US
By Jeff Jacoby, The Boston Globe, January 23, 2003
Treatment of Israel strikes an alien note
By Alan M. Dershowitz, The National Post, November 5, 2002

Israel faces rampant discrimination at the United Nations
By Julián Schvindlerman, The Miami Heald, November 1, 2002

The Myth Of 'U.N. Support'
By Charles Krauthammer, The Washington Post
October 4, 2002
Speaking of the UN
Editorial, The Jerusalem Post
October 3, 2002

The trouble with the U.N.
By Joseph Farah, WorldNetDaily.com
October 4, 2002
The U.N. Shows Its Colors
Editorial, The New York Post
August 23, 2002
Mary Robinson, War Criminal?
By Michael Rubin, National Review
May 20, 2002
Rethinking the United Nations
By David Limbaugh, WorldNetDaily.com
May 15, 2002
Call it Sham-nesty International, an apologist for terror
By Margaret Wente, The Globe and Mail
May 9, 2002

Kofi's Choice
By Charles Krauthammer, The Weekly Standard
May 13, 2002

The facts about Jenin
Editorial, The Washington Times
May 3, 2002

UN 'human rights' an embarrassment
Editorial, The National Post
May 2, 2002
U.N. lynching prelude
By Arnold Beichman, The Washington Times
May 2, 2002
At the U.N., Israel faces stacked deck
Editorial, Boston Herald
May 2, 2002

The U.N. won't investigate the real tragedy
By Yossi Klein Halevi, The Los Angeles Times
April 28, 2002

Inside the Palestinian Refugee Camps
Fox News' Special Report with Brit Hume, April 30, 2002
An interview with Marc Ginsberg
Guilty until proven guilty
Editorial, The Jerusalem Post
April 29, 2002

Prepare for war crimes indictments
By Evelyn Gordon, The Jerusalem Post
April 29, 2002
Why we shouldn't trust the UN
By Anne Bayefsky, The Globe and Mail
April 26, 2002
Some questions
By Mona Charen, TownHall.com
April 26, 2002
The U.N.'s Israel Obsession
By David Tell, for the Editors, The Weekly Standard
May 6, 2002, Volume 007, Issue 33
The UN and terrorism
By Shlomo Avineri, The Jerusalem Post
April 26, 2002
Unbalanced Mission to Jenin
Editorial, The Washington Post
April 26, 2002

U.N.'s point man in Jenin
By Paul Greenberg, The Washington Time
April 26, 2002
Europe and 'Those People'
By Charles Krauthammer, The Washington Post
April 26, 2002
U.N. vote undermines 'human rights'
By Jonah Goldberg, Jewish World Review
April 23, 2002

"The whole world can't be wrong." - Kofi Annan
By Jan Willem van der Hoeven
Director, International Christian Zionist Center
April 21, 2002
The U.N.'s Refugees
By Michael Rubin, , The Wall Street Journal
April 18, 2002
The hatred Europe cannot shake
Editorial, The National Post, April 16, 2002
How the U.N. betrays Israel
By Shoshana McCrimmon, WorldNetDaily.com
April 6, 2002
"The U.N.'s Jewish Problem"
By Ruth R. Wisse, Peretz Professor of Yiddish Literature at Harvard University
The Weekly Standard, March 31, 2002
The UN must change
Editorial, The Montreal Gazette
January 31, 2002
UN gives green light to Palestinian terror
By Keith Landy, The National Post
December 8, 2001
---
© 2002-2017 by MidEastTruth